Twitter on Tuesday suspended KTN News account for allegedly buying Twitter bots.
A Twitter bot is a software program that sends out automated posts on Twitter. According to WhatIs.com bots can be useful, informative, annoying or dangerous depending on what the particular purpose is.
"Account suspended. This account has been suspended. Learn more about why Twitter suspends accounts, or return to your timeline," reads a message users are getting after searching for the handle.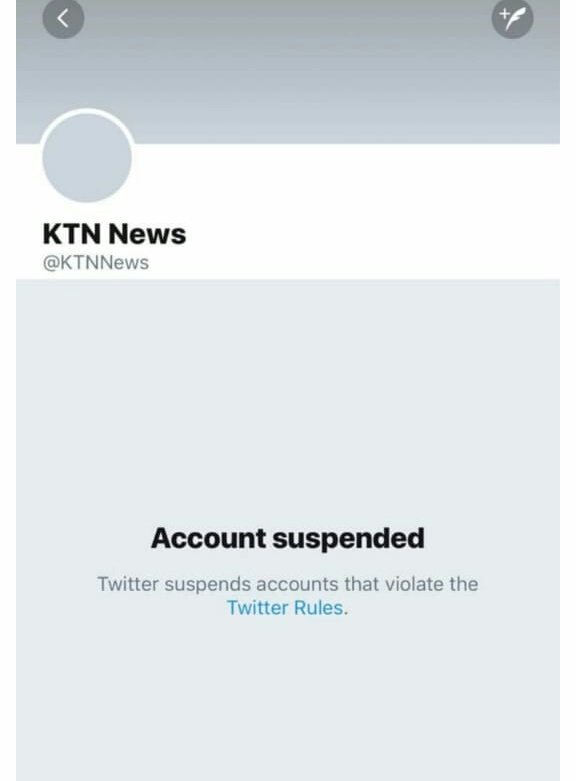 "use strict"; var adace_load_603af1e788531 = function(){ var viewport = $(window).width(); var tabletStart = 1; var landscapeStart = 1; var tabletEnd = 1; var content = '%09%3Cdiv%20class%3D%22adace_ad_603af1e788511%22%3E%0A%0A%09%09%0A%09%09%09%0A%09%09%09%0D%0A%3C%21--%20%2F10657460%2FKT_MCOOP_728X90_Leaderboard%20--%3E%0D%0A%0D%0A%3Cdiv%20id%3D%27div-gpt-ad-1611641973560-0%27%20style%3D%27width%3A%20728px%3B%20height%3A%2090px%3B%27%3E%0D%0A%20%20%3Cscript%3E%0D%0A%20%20%20%20googletag.cmd.push%28function%28%29%20%7B%20googletag.display%28%27div-gpt-ad-1611641973560-0%27%29%3B%20%7D%29%3B%0D%0A%20%20%3C%2Fscript%3E%0D%0A%3C%2Fdiv%3E%0D%0A%0A%09%09%09%3C%2Fdiv%3E%0A%09'; var unpack = true; if(viewport=tabletStart && viewport=landscapeStart && viewport=tabletStart && viewport=tabletEnd){ if ($wrapper.hasClass('.adace-hide-on-desktop')){ $wrapper.remove(); } } if(unpack) { $self.replaceWith(decodeURIComponent(content)); } } if($wrapper.css('visibility') === 'visible' ) { adace_load_603af1e788531(); } else { //fire when visible. var refreshIntervalId = setInterval(function(){ if($wrapper.css('visibility') === 'visible' ) { adace_load_603af1e788531(); clearInterval(refreshIntervalId); } }, 999); }
})(jQuery);