The Judiciary has come out to defend itself amid alleged claims by a section of the media that it ordered release of poisonous rice into the market.
In a statement on Monday, Deputy Director of Public Affairs and Communication Catherine Wambui termed the reports malicious and only aimed at tainting the image of the Judiciary.
"The Judiciary's attention has been drawn to reports in section of the media that the Judiciary ordered release of poisonous rice into the market…This is a malicious and false position aimed at tainting the image of the judiciary," the statement read in part.
Wambui said the allegations are not based on facts as the matter before court was never on poisonous rice but about 20% of a batch that did not meet size standards.
"The Judiciary will like to caution the media against reporting inaccurately and urge them to always verify facts before publishing," she said.
The director added that the matter was resolved amicably three months ago and both parties consented to the decision of releasing good rice into the market.
She blamed the multi-agency that refused to initiate the process after the agreement resulting to the stock being intact by the time Justice Eric Ogola delivered his ruling which ordered immediate release of rice.
"By consent of both parties in the case, the good rice was released more than 3 months ago but the multi-agency refused to open the go-down. So by the time of the judgement, all the stock was intact," said Wambui.
"In his judgement, Justice Eric Ogola considered all the issues and ordered an immediate release. Poison had never been an issue in the entire proceedings."
Read: Kalembe Ndile Accuses DCJ Mwilu Of Receiving Sh30 Million To Rig Him Out
In July last year, a team of detectives allegedly impounded 1 million bags of poisonous rice in Mombasa.
The office of the Directorate of Criminal Investigations (DCI) stated that the rice, originally from Pakistan, had been pronounced unfit for human consumption but somehow found its way into Kenya.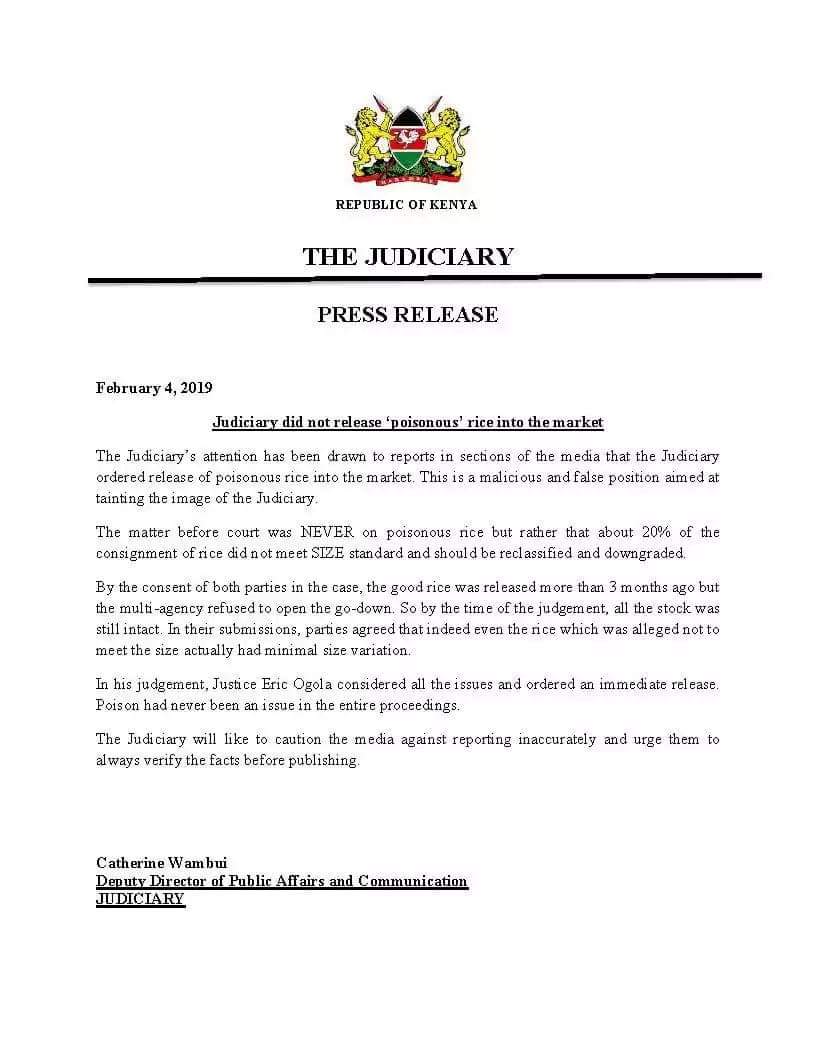 Do you know of a sensitive story you would like us to get our hands on? Email your news TIPS to news@kahawatungu.com  or WhatsApp +254708677607.