As we continue to celebrate our Mashujaa this week, Techmtaa has compiled a list of the ICT Gurus / Shujaas. Comment below on what you think of the list.
Dr Shem Ochuodho
DR Shem Ochuodho is the Senior Advisor of the Ministry of Telecom & Postal Services, Government of Southern Sudan (GoSS), Juba. He is also Kenya Community Abroad (KCA) 2007 Excellence Award Winner and AfricaOnline 2005 Industry Pioneer Award Recipient also voted the Father of Internet in Kenya (CSK 2000).
Through the African Regional Centre for Computing (ARCC – Kenya) which he founded, he pioneered Internet into Eastern Africa. He has led various teams to develop  national ICT and/or Communications Policies in Kenya, Rwanda and Somalia/Somaliland. He has consulted for various UN and other International Agencies. He has consulted widely for or with world leading firms like British Telecoms (BT), Telecom Australia (now Telestra), CSELT-Italy, Microsoft, MultiChoice, etc.
In early 2005, he led a team of experts that worked on the design and planning of cross-border broadband connectivity for the 14 countries of the Southern African Development Community (SADC), under the auspices of the ITU and the Southern African Telecoms Association (SATA). For more than 10 years, he served as the technical and administrative coordinator of the Kenya's Top Level Internet Domain (.ke).
He has also previously been a Senior Lecturer at Kenyatta and Nairobi Universities in Kenya.
Dr Bitange Ndemo
Through his great leadership and push against the beraucratic barriers, Kenyan Tech scene has virtually changed. We have innovative products and the sector is more vibrant than any other sector. M-Pesa and all these mobile banking innovations have all been achieved through his great linkage between the private sector and the government. BPOs and ICT parks are springing all over.
Never show off and you wont even recognise his Twitter account.
Prior to his appointment as PS, he taught Entrepreneurship and Research Methods at University of Nairobi. Besides Policy formulation, Dr. Ndemo is currently steering a campaign to lower the cost of accessing ICT (Connectivity, Hardware and Software) in Kenya and the region in general. He is at the fore front of developing the demand-side of ICTs by actively promoting Business Process Outsourcing in urban centers and roadshows to showcase ICT entrepreneurial opportunities through Digital Villages in rural Kenya.
Dr. Ndemo holds a PhD in Industrial Economics from the University of Sherfield UK, an MBA from the University of Minnesota and University of St. Thomas, and a Bachelors Degree in Finance. In the early 1990's, Dr. Ndemo was a Financial Systems Analyst with Medtronic Inc., a Fortune 500 company in the U.S.A.

Nick Nesbitt (Kencall)
CEO and Founder of Kenya's most successful contact centre.Before founding KenCall, he was Vice President at Qwest Communications in the United States, responsible for all sales outsourcing relationships. Prior to this Nik served as a Sales Executive at US WEST and Schneider Electric. Nik started his career as a management consultant with The Boston Consulting Group in Boston.
Kencall has made Kenya a force to reckon with in the BPO market competing strongly with India and others.
Though a family business, Nick has been in the forefront of most of the initiatives of Kencall. Kencall services contact centre clients in UK, US and Kenya. The company boasts high focus and demand on Quality and have over 500+ accent neutral staff.
Njeri Rionge
She is CEO and Founder, Ignite Consulting & Investment Limited, and Director and Co-founder, Wananchi Online Limited, a leading IP communications solutions provider. She has also launched a web development and Social Media Consulting and Marketing firm, Insite (www.insite.co.ke)
Co-founded and positioned Wananchi Online for an IPO scheduled for November 2007. Initiated the IPO process through strategic development and positioning of the brand for market acceptance.
Spearheaded an Internet educational series on KTN television with a vision to make Internet services available to Kenyans with the fruition of e-commerce in the near future. Motivational and inspirational speaker on multiple disciplines and target groups, having conducted seminars in Africa, Europe and North America (www.njeri-rionge.org).
Njeri has also Promoted African arts to the American market in 11 states through the Black Expo Conference.
Njeri Rionge was selected for the ICANN Board by the Nominating Committee. Her first term ran from 26 June 2003 through the conclusion of ICANN's annual meeting in 2005. She was then selected by the Nominating Committee to serve a second term, which runs through the conclusion of ICANN's annual meeting in November 2008.
Michael Joseph
He just confessed yesterday at MJ Reflections event organised and hosted by iHub Nairobi that he is a "benovelent dictator". MJ, as we famously refer to him, has confessed that he wants to be a Kenyan citizen and he would like to be given the job of a Road Safety Officer. He just needs a big rungu to bring sanity to our roads, he adds.
MJ has run Safaricom since July 2000. He has made great strides achieving the unimaginable. Connecting close to 17 Million subscribers within a short period at the helm. MJ also was at the forefront in  the M-Pesa innovation, advising and consulting with Vodafone before launching the product in Kenya in 2007. M-Pesa now boasts of more than 13 Million subscribers.
The service does not require users to have bank accounts, an important aspect in a country like Kenya, where many people do not have bank accounts. With M-PESA, the user can buy digital funds at any M-PESA agent and send that electric cash to any other mobile phone user in Kenya, who can then redeem it for conventional cash at any agent.  The agents number around 20,000 and are spread all over.
MJ is set to retire this year from the helm but will still stand in as an advisor to Boby Collymore who is the new CEO.
Ayisi Makatiani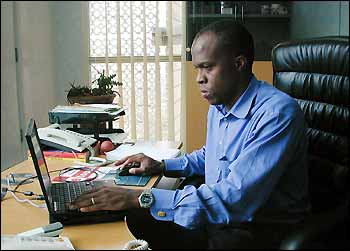 He co-founded of Africa Online, the largest Internet Service Provider across Africa with operations in 10 countries spanning the whole continent.Africa Online through the e-touch centres saw the country have real internet access in thousands as opposed to the few corporates who limited access to their nets because of the 32Kbps dial-up speeds we had access to. I first openned my email account in Kisumu and it was someting like alaionyango@kisumu.africaonline.com which to access, I had to go to Kisumu for.
Makatiani is currently the Managing Partner and CEO of Fanisi Capital LTD. He holds a Bachelors degree in Electrical and Electronics Engineering from Massachusetts Institute of Technology (MIT), a Minor in Economics with a thesis done at the Sloan School of Management.
Makatiani has been featured in The Economist, Fortune (magazine), CNN, NHK, BBC, Financial Times (London) and has been voted several times by his peers as the most respected CEO in East Africa granting him the status of both a Global Leader for Tomorrow and Young Global Leader at the World Economic Forum.
Richard Bell
Richard Bell is a seasoned ICT entrepreneur turned venture capitalist. He is the CEO of East Africa Capital Partners.  In 2006/2007 he and Mark Schneider bought 30% in African Lakes a London PLC that owned Africa Online and UUNet Africa and after a 6 month hostile takeover battle with Telkom South Africa sold it again returning investors an IRR of over 100%.  He previously founded and then sold; an ISP (Swift Global) in Kenya and Uganda, and, a data infrastructure operator (Kenya Data Networks).
He was the Chairman of "The Telecommunications Service Providers Association Of Kenya" (TESPOK), a professional (not for profit) association representing the interests of ISPs and other value added Telecommunications Service Providers in Kenya. The association was set up in October 1999 and was very active in lobbying Government and The regulator on policy issues leading to the establishment of Kenya Internet Exchange Point (KIXP). The KIXP was commissioned in November  2000 with 4 ISPs exchanging traffic
The growth was so dramatic that within 7 days all ISPs were forced to upgrade their links, while a further 6 ISPs applied
to join the KIXP. At that point the regulator (under pressure from the monopoly PTT – Telkom Kenya Limited) closed down the KIXP, citing the fact that TESPOK should have applied for a license. Through the leadership of Mr Richard Bell, TESPOK got a license to operate the Exchange Point.
Dr Juma Oketch
Daktari had a passion for helping others realise their potential. He was a member of the world bank backed and funded "dream-team " who were expected to turn-around the Kenyan economy in 2000. When his contract could not be renewed two years later, he left for the Rwanda Information Technology Authority where, with President Kagame's goodwill, he worked for a system that allowed the cabinet to communicate and do business with laptops and the internet.
Daktari came back in 2004 to head the directorate of e-government. He was also instrumental in the development of a system that allows citizens to apply for Public Service Commission jobs online.
He provided the much needed e-leadership in the public sector by setting the standards for government employees working on e-government projects.
Before succumbing to cancer, Juma was very eager about the coming of e-transaction legislation which would allow the growth of e-life / e-commerce in Kenya. The legislation was finally passed but just after the death of the pioneer.
His work at e-Government, African Network Operators Group, and Kenya Technical Teachers College can never be wished away. Described by President Kibaki as "a dedicated academician and an illustrious civil servant"
He earned a Canadian scholarship in 1978 to study technical education after scoring straight As in Form Six at Mombasa Polytechnic. Since it was the Kenyan authorities that decided the areas of study for the beneficiaries of the scholarship, Juma had to content himself with a teaching course.
Juma and other Kenyans on the same programme returned to the country to teach. At Kenya Teachers Technical Training College (KTTC), Juma toyed with some of the first personal computers.
While addressing us at Strathmore ICT COnference in 2008, you could feel a swag like he was just 25 years old.
Dr Magdalene Juma
Magdalene Nafula Juma was Senior Manager of Academic Programs for the African Virtual University. She pushed for the education of the young through Virtual Classrooms at AVU and I studied under her through the World Bank Sponsored Projects. Magdallen Juma held senior positions at the University of Nairobi and Kenyatta University as Director, Institute of Distance Education and pioneer of Africa Virtual University, AVU.
AVU is a form of distance learning that involves dissemination of subject content through satellite and Internet technologies. Started in 1997 on a pilot basis, the AVU has been offering certificate- based courses in engineering, information technology, accounting, marketing and purchasing.
AVU developed a programme focused on Primary Schools teachers called  "Toolkit for Primary Education" – which helps children to learn English, mathematics and sciences effectively.
She published widely on education issues in over forty journals and books and presented scholarly papers at over fifty international conferences. Her research interests centred on education in relation to gender, ICT, Distance Education, and HIV/AIDS. She also carried out consultancies commissioned by UNESCO, UNICEF, UNDP, the Commonwealth Secretariat, CODESRIA, OSSREA and FAWE.
Dr Juma sadly passed away early in 2006. If Dr Juma was alive today, the scene of ICT in Kenya would be so different.
Ory Okolloh
Ory Okolloh is a Kenyan activist, lawyer, and blogger. In 2006 she together with co-founded the parliamentary watchdog site Mzalendo (Swa:"Patriot"). The forum sought for increased government accountability by systematically involving the governed through recording of bills, speeches, MPs, standing orders. Come December 2007 and Kenya was engulfed in violence following a much disputed presidential election. Ory together with others helped create a crowd-sourcing platform and aptly named it
Ushahidi (Swa: "testimony"). The website collected and recorded eyewitness reports of violence using text messaging and Google Maps. The technology has since been adapted for many other situations like monitoring elections and tracking healthcare availability in India, Haiti, DRC, Liberia, Sudan and many other areas.
Through funding, Ushahidi has grown much. This year (2010) saw the birth of iHub (an innovation centre) in Nairobi which is a Ushahidi initiative as a means of paying back to the society where the roots of the founders lie.
Ory runs a personal blog, Kenyan Pundit, works as a legal consultant for NGOs.
Okolloh earned an undergraduate degree in Political Science from the University of Pittsburgh and graduated from Harvard Law School in 2005.
Paul Kukubo, Betty Mwaniki and  Ken Njoroge
Watching this Youtube video posted recently, you could see the slim Mwaniki, Kukubo and Njoroge pushing boundaries and developing solutions which everybody was marveling. I first read of 3 mice in a newspaper article way back and I kept the cutting until sometime in 2005 when I lost all my historical cuttings of great stories.
But we cant talk of the progress in Innovation and Web Technologies / Solutions in Kenya and ignore 3Mice.
Betty Mwaniki still heads 3Mice but Ken Njoroge went and co-founded Cellulant but also runs popular products like Lipuka. You might not hear of Betty Mwaniki as much as you get to hear of Ken and Paul but she is a strong player even currently in Kenyan Tech scene.
Paul head the Kenya ICT Board.
Bernard Kioko
Over the last 15 years, Bernard Kioko has been involved in many projects and developed many products. But the most visible of all has been Bernsoft Bulk SMS product.
Without his great innovative mind and business acumen, Kenyan mobile interractive scene would be different. Aside from the mobile products, Kioko has also been involved in development of various software solutions for Hospitals, Banks, Churches and even Media Houses.
All of us remember the "Powered by Bernsoft" line in most of the media houses in early 2000s.